Welcome to The Bill Wiki,

a free resource that anyone can edit.
The Bill Wiki is a collaborative project to create the most definitive, accurate, and accessible
encyclopedia and reference database for everything related to The Bill.
In this wiki, started on 5th December 2005 and relaunched on 27th December 2006, we are currently working on over 4,305 articles.
Warning: This wiki contains spoilers. Read at your own risk.
ANNOUNCED 25th MARCH: THE BILL HAS BEEN AXED FILMING ENDING 14th JUNE
Sun Hill first opened its doors in 1983, when young P.C. Jim Carver joined the Station on his First Day. From there, Viewers where introduced to Characters such as D.S. Ted Roach, Sgt. Bob Cryer & W.P.C. June Ackland who's antics helped make The Bill the hit it is Today. The Bill's major Trademark has been it's theme music "Overkill", which really caugfht the attention of viewers.. Well, that and many mouth-watering storylines which have had many of us sat on the edge of our chairs, and hopefully, will do for many years to come. Over the Years, The Bill has changed its face to adapt to show the Modern Metropolitan Police. In 2009, The Bill has gone under a major Revamp to make it Sexier, More Down to earth and make more entertaining television, when it went to a new Slot at 9pm.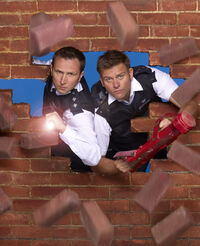 Current Date & Time
| | |
| --- | --- |
| UK | Friday, 7 August 2020 - 16:35:20 Zulu (GMT/UTC) |
Featured Article
The Bill is a long-running British television police procedural shown on ITV1, at 8pm, usually on Wednesdays and Thursdays.
You can talk about The Bill in general at the forum.There is a link at the bottom of the page.
The setting is the Sun Hill district of the fictional London borough of Canley. Other police stations in the borough, mentioned but (usually) never seen, are Barton Street, which is the location of Borough Headquarters, Stafford Row and Spicer Street. Canley is approximately contiguous with the real London Borough of Tower Hamlets, and is also the name of a real district within the city of Coventry, some 100 miles north of London.
The Bill News
Trudie Goodwin is joining Emmerdale!
Trudie, who played June Ackland will appear as Georgia Sharma from around late October - digitalspy article.
Find out more about connections between The Bill and Emmerdale at The Emmerdale Wiki
Create a New Article
Anyone can contribute to The Bill Wiki. If you would like to create a new article,
please check first that the article doesn't already exist.
If not, you can type the title in the box below, and write your article.