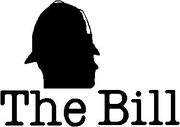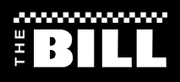 The Bill is a long-running British television police procedural shown on ITV1 (aka ITV), at 8pm, usually on Wednesdays and Thursdays.
Past episodes can also be seen on

Alibi

& Watch. In Australia, the show is shown on ABC, and in Ireland by RTÉ One.
The setting is the Sun Hill district of the fictional London borough of Canley. Other police stations in the borough, mentioned but (usually) never seen, are Barton Street, which is the location of Borough Headquarters, Stafford Row and Spicer Street. Canley is approximately contiguous with the real London Borough of Tower Hamlets, and is also the name of a real district within the city of Coventry, some 100 miles north of London.
The Bill is unusual among police shows: it takes a serial format and it does not focus on one particular area of police work. Instead, the show's time is divided between the work of officers on one shift in the uniform division, and the work of the C.I.D..
The Bill started as a one-off drama for ITV's Thames Television series Storyboard; which was a short season of one-off dramas from Thames Television, the company behind some of ITV's most important dramas in the 1970s and 1980s. Five of these dramas were picked up as a full series including a police drama entitled Woodentop; this pilot show starred Mark Wingett as P.C. Jim Carver and Trudie Goodwin as W.P.C. June Ackland on Carver's first day on the beat at Sun Hill police station. It was originally devised by Geoff McQueen, and it impressed ITV so much that they decided to make a series out of it.
In October 2003, a special episode of The Bill was broadcast live from its London studios to mark the show's 20th year on air. At 8pm on Thursday, 22 September, 2005 another episode was broadcast live to mark the ITV Network's 50th anniversary. The episode was written by Graham Mitchell and co-produced and directed by Sylvie Boden.