Getting It Right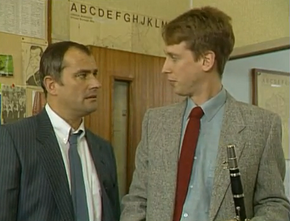 D.S. Greig starts off on the wrong foot with D.I. Burnside
| | | |
| --- | --- | --- |
| Episode No. |   | Series |
| 84 | 1989x001 | |
Original Airdate
3 January 1989

"Getting It Right" is the 84th episode of The Bill. It is the first episode of 1989 and therefore the first episode of Series 5. This episode introduces a new Detective Sergeant, Alistair Greig, brought in to increase CIDs manpower.
D.I. Burnside leads a raid on a hotel room to catch a man suspected of armed abduction, but due to PC Ramsey's duff info, they raid the wrong room. The man in the room threatens to make an official complaint against Burnside, who charges Ramsey with digging up some dirt on him. It turns out he's a doctor, and it appears he was having an affair with a patient. Burnside gleefully goes to tell the doctor to drop his complaint, but finds he and Ramsey got it all wrong again. Sgt. Cryer is heading to court to support his son, Patrick, and on the way he is followed by a girl who tells her that Bob found her as an abandoned baby 15 years ago. Patrick's case is thrown out of court, and the dead girl's father accuses Cryer of a police cover-up. In no mood to deal with her, Cryer tells Bobby to go away, but back at the station sees she has been reported as missing.
(Episode Cast: in credits order)
Guest cast
Edit
External links
Edit
Community content is available under
CC-BY-SA
unless otherwise noted.