Cutting Edge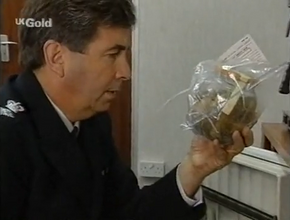 Brownlow finds the three fingers in his fridge
| | | |
| --- | --- | --- |
| Episode No. |   | Series |
| 639 | 1993x138 | |
Original Airdate
20th November 1993

Cutting Edge is the 639th episode of The Bill.
W.P.C. Page and P.C. McCann are called to the Parkmead Estate to deal with an aggravated burglary, in which the female householder was assaulted. At St. Hugh's hospital, the husband tells Polly and Gary that he came home and found the burglar in the flat. There was a confrontation in the kitchen and the husband chopped off three of the burglar's fingers. The burglar ran off, and the householder put the fingers in a jar of gherkins.
D.C. Woods tries to get the jar put into the canteen fridge but one of the workers threatens to close down the canteen so he puts the jar in the fridge in the conference room.
D.C. Lines and D.C. Carver interview a patient who has lost three fingers and who claims that his fingers were caught in a lorry door.
(Episode Cast: in credits order)
External links
Edit
Community content is available under
CC-BY-SA
unless otherwise noted.