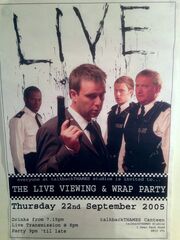 During the party of Sun Hill's 50th anniversary Jeff Clarke, who's 8 year old son was killed in an RTA earlier that day, takes Jo, Zain, Dan, Gabriel, Terry, Superintendent Prosser and the real Gabriel Kent, who had been confronting Gabriel, hostage in CID. When Clarke turns his back Superintendent Prosser tells Dan to lunge at the gun, who does, and in the process Dan and the real Gabriel Kent are shot. DCI Meadows, Gina and Superintendent Okaro take charge of negotiations when Superintendent Prosser decides she doesn't want to continue running Sun Hill. They discover that the joyrider who accidentally hit 8-year old Jake Clarke, has disappeared. It's a race against time when they discover he's in the trunk of Jeff Clarke's car, which is wired.
Community content is available under
CC-BY-SA
unless otherwise noted.