Danny Glaze
Biographical information
Nickname(s):

Dan

IC:

3

Gender:
  Male
Hair Colour:

Black

Eye Colour:

Hazel

Marital Status:

Single

Occupational information

Occupation(s):
Affiliation:
Rank:
Current Status:

Resigned

Other information

Portrayed by:
First Appearance:

1999x030 - Makeover

Last Appearance:

2003x080 - Episode 155

● List of Appearances ●
D.C. Danny Glaze is a character from The Bill.
Danny Glaze was a Londoner with twelve years service in the Met. He was smart, sassy and instinctively streetwise - this coupled with a genuine enthusiasm for the job made him not only a good copper, but also a popular one. He was a bit of a wise cracker and genuinely interested in everyone (both victims and villains) and used humour and charm to suss them out.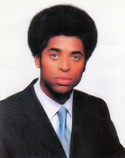 The move to Sun Hill was his second CID posting; he applied for the transfer with the aim of broadening his experience. He'd previously met DC Liz Rawton on a course and felt that he would be comfortable working with the Sun Hill CID.
To be a DC Danny worked hard, kept his head down and made a determined effort to fit into a very white, male environment. He didn't suffer fools and had a directness that could sometimes be alarming and ruthless if he was wound up. It took a lot to make him lose it, but when he did, it was best to run for cover!
Ironically it was Danny who ran for cover in the end when ex-DI Sally Johnson began to investigate claims of a fit up in the Simpson murder case Danny wrestled with his conscience to come clean. He pocketed £20,000 overlooked in a robbery case, sent DCI Meadows his warrant card in the post and left the country.
Service Record
[
]
Family and Relationships
[
]
Major Storylines
[
]
1999- Joins Sun Hill
2000- Don Beech Scandal
2000- Undercover at Carnival
2001- Undercover in prison 2002- Vik Singh Resignation, and Jeff Simpson frame up (Sun Hill Fire 2002)
2003- Acting Detective Sergeant (CSU)
2003- Resigns during fire fallout