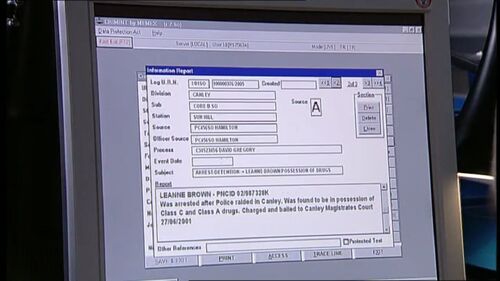 This is a copy of the report used in episode 381, reporting Leanne Brown. (Colons represent text boxes.) This report size has been edited to fit page.
Log U.R.N: 10150 I00008087/2001 Created:
Division: CANLEY Source: A
Sub: CORE B.SO
Station: SUN HILL
Source: PC456SO HAMILTON
Officer Source: PC456SO HAMILTON
Process: C34523456 DAVID GREGORY
Event Date:
Subject: ARREST/DETENTION LEANNE BROWN POSSESION OF DRUGS
Report: LEANNE BROWN - PNCID 02/987328K Was arrested after Police raided in Canley. Was found to be in possesion of Class C and Class A drugs. Charged and bailed to Canley Magistrates Court. 27/06/2001.
Other References:
Community content is available under
CC-BY-SA
unless otherwise noted.