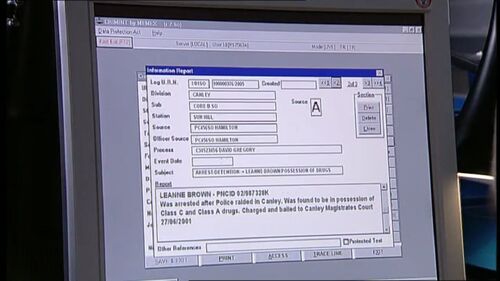 CrimInt is a database maitained by the Metropolitan Police for recording intelligence information and stop and search/account reports. The system was built by Memex Technology and is based on their Patriarch product.
CrimInt, like many systems used by the Metropolitan Police was provided to Thames Television for use in The Bill. This originally consisted of a Windows 3.11 setup with a local database with reports created for a variety of uses. Each terminal had a Memex server and client software installed and handled locally.
As time went on this became screen captures of CrimInt from the previous setup edited in PowerPoint. This was noticeable on screen with the PowerPoint next/previous buttons appearing in the bottom right of the screen. CrimInt itself underwent numerous upgrades in its lifespan - the version used on The Bill dated from 1994 and was used until the end of the series in 2010, despite the system in real life having a massively different user interface at the time.
Example of CRIMINT report
[
]
This is a copy of the report used in episode 381, reporting Leanne Brown. (Colons represent text boxes.) This report size has been edited to fit page.
Log U.R.N: 10150 I00008087/2001 Created:
Division: CANLEY Source: A
Sub: CORE B.SO
Station: SUN HILL
Source: PC456SO HAMILTON
Officer Source: PC456SO HAMILTON
Process: C34523456 DAVID GREGORY
Event Date:
Subject: ARREST/DETENTION LEANNE BROWN POSSESION OF DRUGS
Report: LEANNE BROWN - PNCID 02/987328K Was arrested after Police raided in Canley. Was found to be in possesion of Class C and Class A drugs. Charged and bailed to Canley Magistrates Court. 27/06/2001.
Other References: